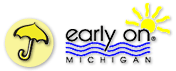 Service coordination is available to families with children from birth to age 3 that have a developmental delay and/or a medical condition that could lead to a delay. Qualifying families will also receive:
An Individualized Family Service Plan (IFSP) that will develop goals and outcomes for your family and child.

Continued evaluation/assessment of your child to establish service eligibility and monitor progress toward goals.

Support and information about how to get your child in to see a specialist and/or to receive additional services.

If necessary, we coordinate with other professionals, like
a physical therapist or other specialists, and other agencies to
ensure that we are working toward common goals and not duplicating service.